Nuclear Medicine
Bath Radiology Group offer the full range of nuclear medicine diagnostic investigations. 
Both Richard Graham and Stewart Redman are subspecialized radionuclide radiologists and hold full diagnostic licenses from the Administration of Radioactive Substances Advisory Committee (ARSAC).  In addition Richard Graham holds an ARSAC license for PET-CT.
Since the studies are reported by radionuclide radiologists, the report produced considers both the functional (nuclear medicine) and the structural (plain film, CT and MRI) information to produce an integrated clinically useful report.
We utilize single photo emission computed tomography (SPECT), and CT co-registration, for a large proportion of our studies, which produces cross sectional images that give us increased diagnostic certainty.
Musculoskeletal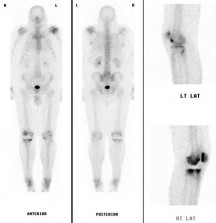 MDP bone scans, which are useful in:  
Staging and re-staging of carcinomas with possible skeletal metastases e.g, prostate, breast and lung.
Investigation of skeletal pain
Investigation of polyarthropathy
Investigation of stress fracture
Investigation of periprosthetic joint loosening and infection
Investigation of rheumatological disorders e.g SAPHO
Investigation of wrist pain
Investigation of diabetic feet with regard to osteomyelitis
Pulmonary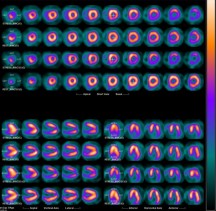 V/Q scanning has a very high negative predictive value in the investigation of pulmonary embolic disease.  We perform studies in the investigation of acute and chronic disease.  All our V/Q scans are performed using SPECT.
We recommend 'half dose' Q scanning in pregnant women as the patient breast dose is significantly less than that of CTPA.
Cardiovascular
Myocardial perfusion scintigraphy for the investigation of coronary artery disease
MAA shunt studies
Lymphoscintigraphy to image lower  limb lymphatics in lympheodema
Endocrine
Sestamibi SPECT-CT scanning for localizing parathyroid tumours
Iodine imaging for patients with thyroid dysfunction
Iodine imaging for the staging of thyroid carcinoma
MIBG and Octreotide SPECT-CT for the investigation of neuroendocrine tumours
Renal
DMSA renogram for imaging renal scars and calculating split function.
MAG 3 renogram for investigation obstructive nephropathy
Gastrointestinal
SeCHAT studies to investigate bile salt malabsorption
HIDA studies for gall bladder dysfunction and biliary leaks
Labeled red cell scans to investigate GI bleeding
Meckels scan
Labeled white cell scans to investigate inflammatory bowel disease
Infection
We perform labeled white cell scans for osteomyelitis and occult infection.  We generally will perform a bone marrow scan contemporaneously to increase the usefulness of a white cell scan.
Breast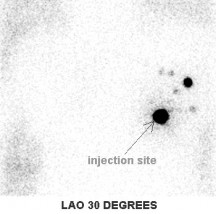 We perform lymphoscintigraphy to localize sentinel lymph nodes.
Dermatology
Lymphoscintigraphy to image sentinel nodes in malignant melanoma
Neurology
DaT scans for the diagnosis of Parkinson disease, Lewy body dementia and Parkinson plus syndromes
Cerebral perfusion/metabolic imaging for the diagnosis of Alzheimer and frontotemporal dementia
Ophthalmology
Dacroscintigraphy for the investigation of epiphoria.
We are always happy to discuss the potential usefulness of a nuclear medicine investigation with any referring clinician.