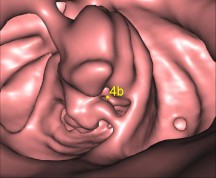 In the UK, colorectal cancer is the second most common cancer in women and the third most common in men. CT Colonography is a very well-established technique that uses a fast CT scanner to produce 2- and 3-dimensional images of the entire colon and rectum. It is fully recognized by NICE as a useful test to detect abnormalities of the large bowel, such as polyps and colorectal cancer, in symptomatic and at-risk screening patients.
CT Colonography is less invasive than optical colonoscopy and is also able to examine the other organs in the abdomen and pelvis. Like optical colonoscopy, the scan is performed after a period of dietary restriction and often bowel cleansing. It involves the introduction of carbon dioxide via a rectal tube to distend the bowel. The examination time is usually about 20 minutes and, since sedation is not used, patients can return to normal activity after the procedure.
The images are reported by specialist abdominal Radiologists, Dr Stephen Hayward, Dr Andrea Phillips, Dr Stewart Redman and Dr Kelly MacDonald.